28
Mar
Royals Cruise as They Down Mariners 5-1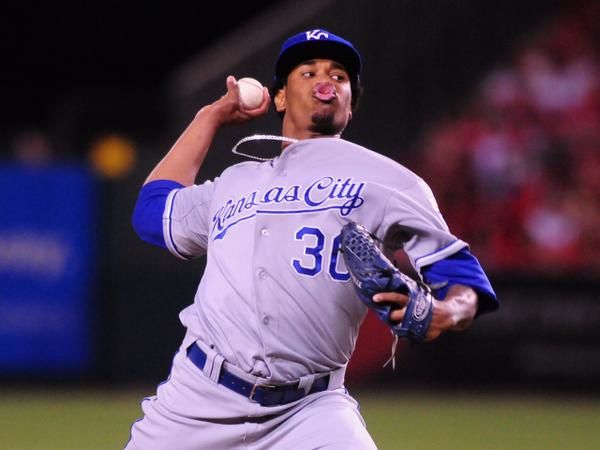 This was the second of four spring games airing on FSKC. With a little over one week until kicking off the regular season, Kansas City (14-9) and Seattle (10-12), a potential playoff match-up, look to fine-tune their skills in order to get off on the right foot this season.
Opening Day starter, Yordano Ventura, took the hill for the Royals today. Ventura came into today with a 10.29 ERA in five games this spring season. Ventura's counterpart, James Paxton, came into the match with a 0.00 ERA in one Spring Training start.
The Royals looked very solid today as they cruised to an easy 5-1 victory. Yordano Ventura, in particular, was very sharp. Ventura not only threw seven shutout innings, he did not give up a single hit in this outing. Though he did give up two walks, he also struck out four batters, and showed very much improvement on a changeup that he's been working on this offseason.
Jason Frasor got some work in today. He pitched a third of an inning and gave up one earned run. Brian Flynn finished the eighth inning, while again, showing off an impressive slider. Brian Flynn has been very impressive this spring, and would be a very good addition to an already lethal bullpen. Wade Davis finished the game for Kansas City. Davis, like usual, was in total command of all of his pitches, as he struck out the final two batters of the ballgame.
Offensively, the Royals got it done today. Eric Hosmer got scoring started with two-run homer in the first inning off of James Paxton. In the fourth inning, Salvador Perez's double scored Lorenzo Cain, who reached on an E4 earlier in the inning. Mike Moustakas then traded places with Perez with a double of his own, and scored when Mariners' pitchers walked in the fifth run of the game.
Kendrys Morales continued his solid spring going 2-4 today. Eric Hosmer hit his third home run of the spring, and collected two RBIs, while raising his batting average to .319. Salvador Perez also had two hits and an RBI today. Perez hasn't seen nearly as much action as he is used to, but this is a good sign that he won't set another record for most games caught this year. Alex Gordon had another troublesome day. Gordon experienced a setback due to wrist surgery, and is still trying to figure out his timing. Gordon was 0-4, with one strikeout, and left four runners on base. There's still time for Gordon to figure out his timing issue, but with a little over a week left, this may raise some concerns as to how he will fare against big league opponents early this season.
The Boys in Blue have a different attitude this year. It's noticeably different, and the maturity level of the team is a lot higher than this time last year. The way they portray themselves is like they made a complete one-eighty. The last few springs, they've played like thirty guys competing for a roster spot. This year, it's easier to pick out who belongs with the big club because the ones that belong are playing collectively instead of for themselves. The sky is the limit for this team. The only thing now is that they need to realize it, and they have.