28
Mar
Royals Come back, Beat Arizona 10-5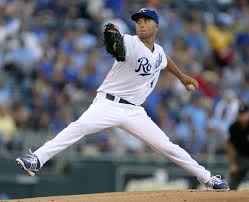 Another good matchup aired on FSKC. Though our broadcasters were not on today, baseball was still shown, and we all should have been blessed. Kansas City came into the day looking to win their third straight spring contest.
Danny Duffy, the Royals number two starter, was on the bump for today's game. Duffy came into today with a 4.05 ERA in four games. Jeremy Hellickson was on the other side for the Diamondbacks. Hellickson owns a 5.87 ERA in 7.2 innings for his first season in a D-Backs uniform.
Omar Infante got the bats going with a leadoff double in the first inning. Lorenzo Cain singled him in later in the inning. The offense was silent after that until the fourth inning. The second run of the game featured a walk, a hit, and yes… A bunt. Eric Hosmer walked with no outs, and Mike Moustakas bunted him to second base. Paulo Orlando recorded his second knock of the game with an RBI single up the middle that scored Hosmer. The next inning, Omar Infante continued his perfect offensive day with a single to center field. Christian Colon took his spot after grounding into a fielders' choice. Lorenzo Cain and Eric Hosmer were able to bring Colon around to score the Royals third run of the game. A big seventh inning for the Royals was key. Alex Liddi doubled in J.C. Boscan and Whit Merrifield. Gabriel Norriega brought Liddi in for the sixth tally of the game. Paulo Orlando, Moises Sierra, and Ethan Chapman had the final four RBIs for Kansas City.
What started as a fantastic outing for Danny Duffy, ended as a shaky start. Duffy retired the first nine batters he faced. He cruised into the fourth inning, but then ran into the bat of A.J Pollock. Pollock doubled to right field, and was brought in by Paul Goldschmidt's monster homer to left field. Arizona got two more runs in the fifth inning on an A.J Pollock two-run blast that also scored Nick Ahmed. Louis Coleman pitched the 6th inning, and gave up another run on a Nick Ahmed RBI single to score Jordan Pacheco. Ahmed's RBI extended the lead to two runs heading into the later innings, but it wouldn't last.
Omar Infante had an impressive day. Infante went 3-3, and raised his average to .375. Paulo Orlando also had a near perfect day at the plate. Orlando was 3-4 with a walk and 2 RBIs. Lorenzo Cain was 2-3 today and added an RBI of his own.
Two of the outfielders got the day off. Alex Rios, of course, with the jammed thumb. Rios will likely miss a few more games this spring. Alex Gordon got some rest today. Gordon has struggled this spring, and needed a day off. Salvy Perez also got the day off for a second game in a row.
The young guys, as well as guys gunning for a roster spot, got it done offensively today. The Diamondbacks had a 5-3 lead entering the seventh inning, but it was short lived. There are still things that need to be fine-tuned this week, but it looks like it's really coming together for the Royals in the late games of Spring Training.